Flame Resistant Base Layers
Is the fire service ready for flame resistant base layer garments?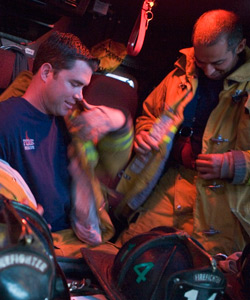 A hot topic being discussed these days is the idea of fire departments adopting flame resistant base layer garments to replace 100% cotton t-shirts or polyester t-shirts. The US Military has already gone through similar evaluations and found inherently flame resistant knits like Sigma™ as the optimum fabric for flame resistant base layers. Explored below are a few reasons why your department may be on the brink of retiring cotton and should be banning polyester t-shirts.
Why Replace 100% Cotton T-Shirts?
100% Cotton t-shirts are good for one reason and one reason only…price. Cotton shirts are made of inexpensive cotton fiber and therefore produce inexpensive cotton t-shirts. The downside of cotton is threefold: poor moisture management, poor color retention,and poor durability.
Moisture Management
You can drop water on top of cotton fabric and it will disappear quickly—the same way certain thermal liner face cloths perform. What happened of course is that the fabric simply absorbed the water, it didn't wick the moisture, which is an important part of good moisture management. The cotton absorbing fabric becomes heavier and stays wetter for a longer period of time (like thermal liner face cloths that perform the same way). This type of poor performance increases fatigue and makes working conditions hotter and more difficult for the firefighter. It is important that firefighters do not confuse "water absorbent fabrics" like cotton as having good "moisture management".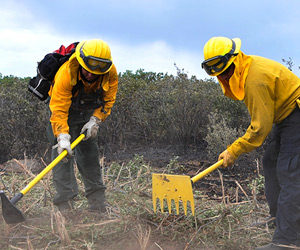 Poor Color Retention—Image is Everything
In a time where firefighter budgets are threatened every day, the look and image of the firefighter is as important as ever. The fire service needs the support of the public, and a good image is critical in influencing a positive opinion. A shirt that retains color/looks newer for a longer period of time is one that will aid in presenting the firefighter in a positive light. Shirts made of cotton fade and wash out quickly—reducing the usable life of the shirt or risk displaying an unprofessional image.
Subpar Durability
Durability is the final Achilles heel to cotton under garments. Aside from color retention, cotton wears out quickly and loses strength much faster than fabrics made of high performance fibers.
High performance fibers like treated polyester, the same ones used by most athletic companies (Adidas, Under Armour, Nike),
would be a great solution except for the fact that polyester melts. For this reason, polyester is not an acceptable solution.
What is an Acceptable Solution?
The US Marines had the same need as the one surfacing in the fire service: the need for a comfortable flame resistant base layer that produces excellent moisture management, a professional look, and high strength and durability. Natick (military testing lab) was used to explore every FR knit material on the market. Modacrylic based fabrics were quickly eliminated from the equation as the US Army and Marines had already experienced enormous durability issues with modacrylic based t-shirts. At the end of the evaluation, the Marines chose 5.5 oz. Sigma knit as the torso fabric in the Marine Enhanced FR Combat Ensemble.
For all of the reasons cotton and polyester are not a good option for a flame resistant base layer shirt, an FR knit like Sigma more than fills the void. Like the US Marines, the fire service should be looking for the following performance characteristics in a FR base layer shirt:
A balance of Lenzing FR® and other high performance fibers to wick moisture away from the skin yet dry quickly.
A fabric made of 100% solution-dyed fibers to provide the best color retention after wash.
A fabric with Para-aramid (DuPont™ Kevlar® or Tejin Twaron®) and meta-aramid (DuPont™ Nomex® or Tejinconex®)
fiber for improved strength and durability.
A fabric that is inherently flame resistant and does not burn, melt, or drip.
There are many options available or coming to the fire service market in 2014. As always, it is important to choose a trusted supplier, with a trusted fabric, and most importantly a fabric that exhibits the performance characteristics listed above.