Filament Twill Technology Makes Statement as the Future of Flame Resistant Fabrics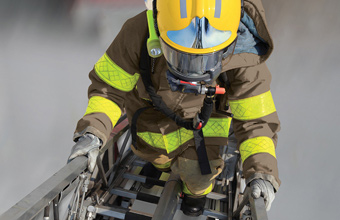 FDIC 2014 was busy as usual this year with record-breaking attendance of almost 32,000 attendees. Those attendees came from all over the world—55 countries sent fire service representatives to FDIC in Indianapolis to talk, listen, teach, learn, and explore what is time tested and what is new in the fire service. One concept relatively new to fire service PPE, but gaining traction as a proven outer shell fabric technology is Filament Twill Technology™. PBI Max™ by Safety Components was launched as the first outer shell featuring Filament Twill Technology at FDIC in 2012. In 2014, an additional outer shell fabric utilizing Filament Twill Technology was introduced—Armor AP™.
What Exactly is Filament Twill Technology?
1. It is a way of designing fabric that involves the use of a twill weave for better flexibility, mobility, and comfort (vs. the traditional rip-stop fabric weave used in the fire service that is more restrictive, stiff, and uncomfortable).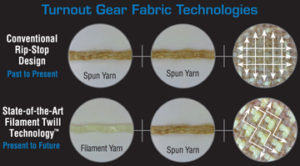 2. It is a way of constructing fabric with the use of DuPont™ Kevlar® filament, usually 20-50% Kevlar filament, in addition to spun yarns for added tear strength (vs. the traditional 90-100% spun yarn fabrics that are weaker and break down to UV quicker).
With the description above, premium thermal liners like Glide™ and other high filament/twill face cloths have fit into this category for over a decade. Glide, the number one thermal liner in the fire service, contains 60% DuPont Kevlar filament and 40% DuPont Nomex®/FR Lenzing® spun yarns. It has only been in the last few years that outer shells started being developed using similar designs as the premium thermal liners, resulting in what is now Filament Twill Technology.
What Types of Departments have Converted from Traditional Outer Shell Fabrics to Filament Twill Technology Outer Shell Fabrics?
Both large and small departments alike have made the switch to Filament Twill Technology outer shells like PBI Max. PBI Max is on pace to soon take over as the number one outer shell in the market with conversions by the US Air National Guard, Philadelphia FD, San Diego FD, Montreal FD, Seattle FD, Baltimore FD, Charleston (SC) FD, Kansas City (MO) FD, Wichita FD, Broward County, (FL) FD, Palm Beach County, (FL), Portland (OR) FD, Mobile FD, and several other large metros have or are in the process of switching. In just two years, over 25,000 suits with the PBI Max outer shell and theGlide™ thermal liner were purchased.
What Exactly is Armor AP and Why was it Developed? Like PBI Max, Armor AP is powered by DuPont Kevlar filament in a unique twill weave design. The combination of Kevlar filament and Nomex/Kevlar spun yarns in Armor AP results in a lighter weight outer shell (6.5 oz.) with improved comfort/flexibility, improved strength/durability, and equal to improved protection over traditional outer shells like Fusion™ or TenCate Advance™.
For the last two decades, fire departments choosing mid-range priced outer shells made of DuPont Nomex/Kevlar have been limited to stiff and uncomfortable gear. With Armor AP, absolute performance is possible and compromise is no longer necessary.
The Present and the Future
With the new outer shell fabrics launched at FDIC this year, and in addition to the success of PBI Max, it is highly likely that
traditional outer shell fabrics will go the way of the leather bucket in 3-5 years. Fire departments will instead choose outer shells engineered with better comfort, flexibility, and mobility…without sacrificing strength/durability or protection. If FDIC 2014 is any indicator on the pulse of the industry for PPE, Filament Twill Technology is quickly becoming the present and the future of turnout gear flame resistant fabrics.